The Best Pre-Roll Packs for Your Cannabis Brand
Pre-rolled joints and blunts are a convenient and popular way to enjoy cannabis. They're also a great way for cannabis brands to showcase their products and reach new customers. For these reasons, a pre-rolls pack is a great addition to your product line. However, with all of the pre-roll packs to choose from, how do you decide?
We'll get to that in a moment…
Firstly, what is a pre-roll pack? A pre-roll pack is a set of 2 or more perfectly sized, pre-rolls, sealed for freshness and packed in a low-profile pre-roll packaging container. Cannabis consumers in today's market want convenience, and a pre-roll pack offers just that for your customer.
Are you looking for the best pre-roll packs for your cannabis brand? If so, this article will give you all the popular choices, so you can decide which one is best for you!
Pre-Roll Containers Multi-Pack Options
So, you want to get into the cannabis business, now which pre-roll packs are best? That's a very good question! And to be honest, this will vary depending on your product and overall needs. To help you personally answer this question for your brand, check out the various popular pack options below.
1. Custom Cigarette Boxes
Custom cigarette boxes are essentially the traditional way to co-pack these products. Common options on the market today can vary in product count and sizes. From small 2-pack options to a large 10-pack, and more!
When choosing a manufacturer, we recommend you work with experts in the market. Professional cannabis co-packing companies can help ensure quality custom cigarette boxes that retain product freshness. The reason for this is that manufacturing and co-packing quality is essential for building brand loyalty.
Check out these Cookies 5 pack blunts that Mabel Manufacturing co-packs below.
Cookies 5 Pack Pre-Roll Packaging
2. Push Packs
Push packs are a custom paper packaging option for pre-roll multipacks that are both stylish and functional. Manufacturers produce push packs from durable paperboard and certify them as child-resistant. This makes them a safe and secure way to store and transport pre-rolls.
In addition, you can customize push packs to accommodate any number of pre-rolls. Additionally, you can use pre-roll inserts to keep pre-rolls organized and secure. This makes them a great option for businesses that want to create a unique and branded pre-roll packaging solution.
Moreover, if you need trendy, child-safe, and customized pre-roll packaging, push packs are the ideal option for you!
Great, What Other Pre-Roll Packs Are There?
3. Glass Cannabis Jar
Glass jars may not be the first thing that comes to mind when considering pre-roll packaging. However, you'll be surprised to learn that they are very common in the co-packing industry. You might be wondering why?
Well, firstly, cannabis glass jars are more durable and protective than cardboard. Secondly, pre-roll jars help prevent moisture and mold from damaging your products. As a result, a cannabis glass jar keeps your products fresh.
In addition, glass is clear which helps your customers see the product through the packaging. As a result, consumers can witness firsthand the product's quality before making their purchase. Essentially, this can help tip the scale in your favor if the customer is debating between various brand products.
From a jar of joints, blunt jar, or any other type of pre-roll jar, Mabel can do it all. Check out a pre-roll joint jar that Mabel Manufacturing co-packs for Connected California below!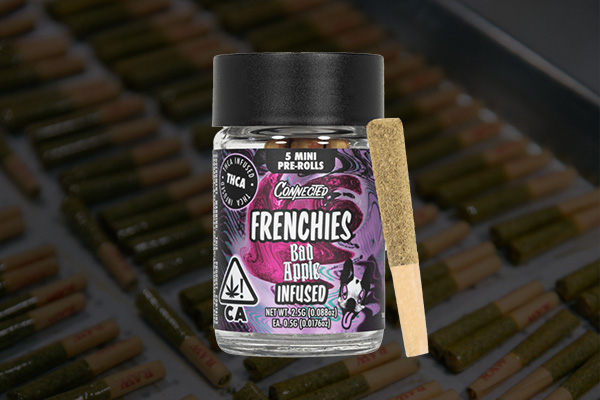 Choosing the Right Manufacturing Partner
Now that you are familiar with the most popular pre-roll pack options, what's next? Well, if you plan on building your cannabis brand, you'll certainly want to partner with the right manufacturing service. However, before doing so, we recommend first identifying what SKUs you'll need for your products and your initial budget.
Once you have a clearer understanding of your volume and budget, you can begin to research cannabis manufacturers who can accommodate your needs.
It's important to note that while maintaining an affordable option is key, you certainly do not want to sacrifice quality. The reason being is that quality materials, efficiency, and premium service does come at a cost when it comes to the cannabis industry.
Your customers are looking for premium products, and you will not be able to achieve that by utilizing services who do not put quality care in your products. In order to remain competitive, you'll certainly want to create products that are comparable, or even better than what's out in the market today!
If you're looking to choose the right partner, you'll be happy to know that Mabel Manufacturing creates premium quality products at competitive prices. Learn more about Mabel's custom pre-roll packaging solutions here.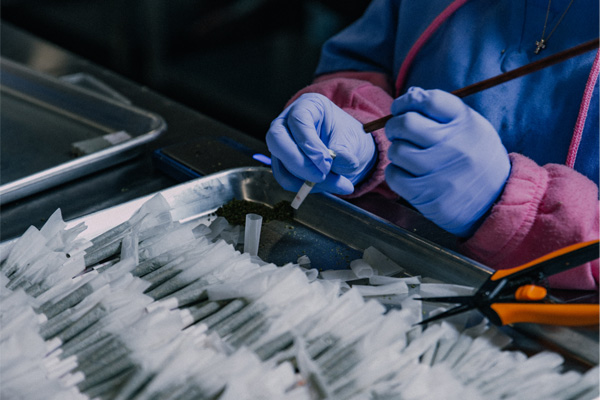 What Pre-Roll Packs Can Mabel Manufacture?
Custom Pre-Rolled Joint Packs
Blunt Packs (1.5 grams & other sizes)
& Other Pre-roll Pack Packaging
Need help co-packing high-quality pre-roll packs? Look no further than Mabel Manufacturing, your co-packing partner. We have a proven track record of providing top-notch co-packing services to cannabis brands of all sizes. Moreover, we utilize premium materials for manufacturing.
From high quality rolling papers, blunt wraps, glass tips, and packaging, we ensure quality all around. In addition, we also manufacture infused products. From hash infused pre-roll products and other concentrates, our facility and staff can do it all. Moreover, we can provide Keef infused pre-rolls, hash hole blunts, and more, if you need them!
What Mabel Does
At Mabel, we manufacture both large and small batches of cannabis products for various brands. Aside from pre-roll packs, we can also accommodate other SKUs and formats as well.
We offer a wide range of co-packing services, including:
Grinding & Rolling Your Cannabis Flower
Infusing Your Products with Concentrates
Selecting the Hemp Wraps & Glass Tip Filters
Pre-Roll Packaging with Labels & Cigar Bands
Packaging Your Products in Custom Containers
Furthermore, we have over 10 years of experience in cannabis manufacturing, so we fully understand the industry. Because of our expertise, leading cannabis brands have been using Mabel for many years. Each pack of pre-rolled joints and blunts is co-packed with quality. In addition, we go above and beyond in quality control and testing.
Why Choose Mabel?
There are many reasons to choose Mabel as your co-packing partner. From quality blunt wraps, child-resistant packaging, hemp pre-rolled cones, and more. See more about why top cannabis brands choose Mabel below.
Mabel Has a Team of Experienced & Knowledgeable Professionals
We Have Over a Decade of Experience in the Cannabis Industry
Mabel Uses Only the Highest Quality Ingredients
We Adhere to Strict Quality Control Standards
We Offer Competitive Pricing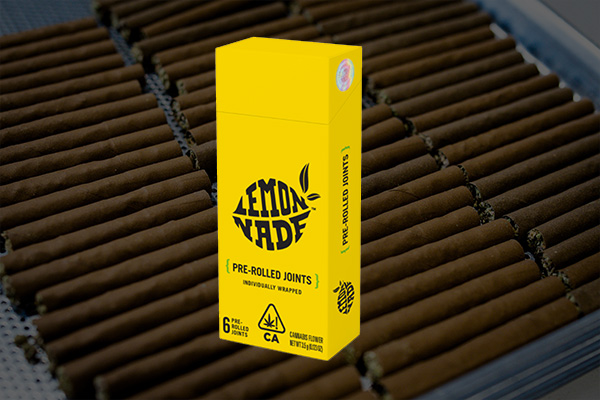 Pre-Roll Packs Made with Quality, Consistency, and Scalability!
Aside from creating quality weed pre-roll packs, you'll need a partner that can do so with consistency and scalability. This is precisely why top cannabis brands trust Mabel with their marijuana pre-roll packs. Our facility has advanced technology and is built for efficiency and precision.
Whether you need 5 pack pre-rolls, 10 pack pre-rolls, or any other count, we can manage it for you. Moreover, we can even accommodate a large 20 pack of joints and blunts as well.
In addition, we offer a variety of customization options, so you can create a unique and stylish presentation for your pre-rolls. If you're wondering about our pre-rolls pack pricing options, contact us TODAY for a QUOTE!
Moreover, we have your products ready for distribution in quality pre-roll boxes and packaging.
Are you wondering, how long will a pre-rolled joint last through our service? If so, you'll be happy to know that most pre-rolled joints will stay fresh for up to 12 months when stored in an airtight container and kept cool and dry. More importantly, our containers and pre-roll packaging are made to maximize the lifespan of your products.
To learn more about getting pre-roll packs manufactured, CONTACT US TODAY!
Learn More About Mabel
Visit Our Homepage To Get Started
Check Out Our Blog 
Follow Us On Instagram