MJBizCon 2022: Inside Scoop – What You Need To Know!
MJBizCon is the world's largest gathering of cannabis professionals, and it's happening this year in Las Vegas. Certainly a can't-miss event for anyone involved in the cannabis industry, as it provides a forum for businesses to network, learn about new products and technologies, and stay up-to-date on the latest industry trends. In addition to its educational value, MJBizCon is also a great place to make new business connections and find potential customers and partners. Indeed, whether you're a grower, manufacturer, retailer, or investor, MJBizcon 2022 is the one event you need to be at if you want to stay ahead of the curve in the rapidly evolving cannabis market.
MJBizCon 2022 Details
Dates: November 16-18th, 2022 (Pre-Show begins on the 15th)
Location: Las Vegas Convention Center (Expo Floor)
Important: Pre-Registration Required
Basically, MJBizCon is the leading forum for "cannabusiness" professionals. Now in its 11th year, MJBizCon has become the most anticipated cannabis industry event of the year. MJBizCon brings together top industry experts, professionals, and investors to discuss the latest developments in the cannabis space.
Evidently, with a robust schedule of pre-show forums, keynote speeches, panel discussions, and workshop sessions, MJBizCon provides attendees with an unparalleled opportunity to learn about what's on the horizon and network with fellow cannabis professionals. Moreover, the educational programming at the conference also features an Exhibit Hall with more than 1400 exhibitors, making it the largest gathering of "canna businesses" in the world. Whether you're looking to learn about new industry developments or meet potential partners and customers, MJBizCon is the must-attend event of the year!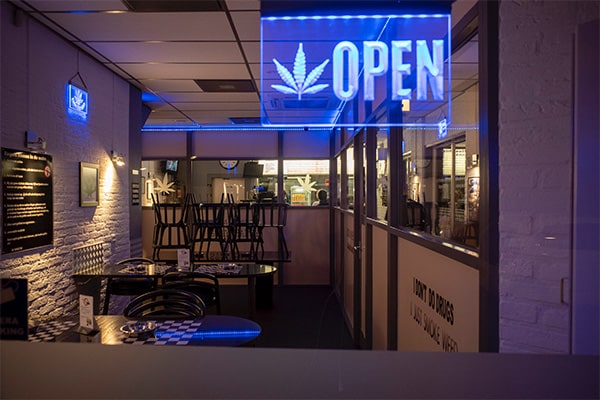 MJBizCon, the Preeminent Cannabis Business Conference in the World, is Segmented into Four Pavilions this Year:
Cultivation of Products & Services

Processing, Packaging & Lab Services

Retail & Dispensary

Business Services
The "Cultivation of Products & Services" pavilion features exhibits on everything from growing to cloning cannabis strains, with a focus on how to grow beautiful flowers and boost revenue. The "Processing, Packaging, & Lab Services" pavilion offers exhibits on packaging, testing, and lab equipment. The "Retail & Dispensary" pavilion provides exhibits on all things needed to boost sales. The "Business Services" pavilion features exhibits on critical products and services for all aspects of business, including point of sale, inventory, latest technology, and security.
Moreover, MJBizCon delves deeper into the business side of things by discussing marketing, consulting, investing, government guidelines, among other cannabis business topics. Whether you are a novice or an expert in the cannabis market, MJBizCon has something for everyone in the industry!
A Chance To Network with the Best Cannabis Brands in the Industry!
MJBizCon offers several networking events for those in the cannabis space. "The First-Timers Open House",  is a great opportunity for newcomers to connect with MJBiz staff and get their questions answered. For those interested in equity in the cannabis industry, the "Achieving Equity in Cannabis" event is highly recommended. Leaders in the industry will be on hand to discuss the issues and advocate for change.
Also, at the "Empowering Women in Cannabis" event, attendees can learn from a panel of women who are championing female leadership in the industry. With so many networking opportunities available, MJBizCon is the perfect place to make connections and further your career in cannabis.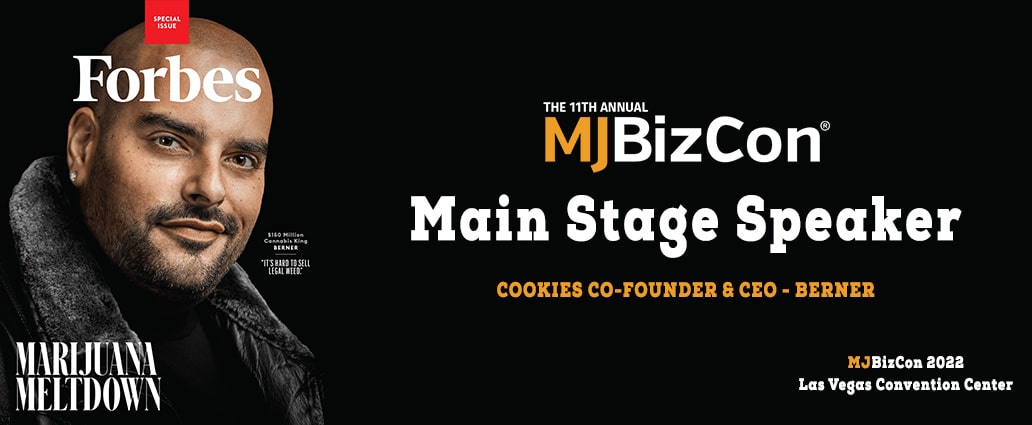 Main Stage Speaker – Cookies Founder & CEO Burner
Learn directly from the CEO of America's first legal weed empire: Cookies. This well-known company includes 48 dispensaries, retail, as well as a cannabis clothing line. Berner is also a celebrated rap star with albums like "Urban Farmer", "Hempire", "El Chivo", and "La Plaza". He spent years in the marijuana trade before opening dispensaries. Cannabis produced by Cookies has won awards around the world.
Berner, who was recently featured on Forbe's, is a marketing machine and his products are in extreme high-demand throughout the cannabis market. Needless to say, Berner is an expert on how to build a cannabis brand and he'll be sharing his insights at the conference. Don't miss this opportunity to learn from one of the most successful entrepreneurs in the cannabis industry!
Hear from the CEO of MjBiz Daily
Another great speaker who will be showcased at this year's conference will be Chris Walsh, CEO of MJBiz. He is the founding editor of Marijuana Business Daily, which launched in 2011, and the first journalist in the U.S. to focus exclusively on the business of cannabis. Through his work, Chris educates the mainstream media about cannabis and hemp sectors. He also hosts the podcast "Seed to CEO", which is quoted as one of America's foremost cannabis industry analysts. As a result of his knowledge and expertise, Chris is a highly sought-after speaker on the topic of cannabis business. Attendees at the upcoming conference will be sure to benefit from his insights.
Need a Break from all of the Excitement and Networking?
Additionally, the Joint and Elevation Lounges are the two designated areas to meet, rehydrate and have some fun at the upcoming conference! The Exhibitor Spotlight Theater will also be available for those who want to get on the education floor and learn more about the products exhibited. Basically, the conference offers a great opportunity to network with industry professionals and establish new relationships. In this area, attendees will have the chance to enjoy music and refreshments, and learn more about the latest products and services in the market.
Good News…Mabel Will Be At MJBizCon Las Vegas 2022!
We're happy to announce that our Mabel team will be attendees at this year's MJBizCon event. Mabel is a leader in cannabis product development as well as a cannabis manufacturing. We are proud to say that we have become a staple in the cannabis culture due to our commitment to providing quality co-packing products for leading cannabis brands. Our focus is on cannabis pre-roll and flower packaging, product development, as well cannabis manufacturing. Furthermore, Mabel brand provides partners with quality packaging and products they can rely on. Mabel is committed to being at the forefront of the cannabis space, and meeting all of the great people in the industry MJBizCon is truly a pleasure.
Above all, our Mabel Manufacturing is a full-service product development company that takes products from ideation to launch. Firstly, we work closely with our brand partners to create products that meet the needs of their customers. We begin with market research to understand the needs of the target market and identify opportunities for new products. Secondly, we move on to cost analysis and planning to determine the feasibility of the project. Once we have a plan in place, we begin sourcing materials and production. In addition, Mabel delivers high-quality product development, manufacturing, and co-packing to accommodate an ever-growing cannabis industry. Overall, you can consider Mabel brand your one-stop shop for all cannabis flower packaging and pre-rolls!
Products Mabel Specializes In Include:
Pre-Rolled Joints

Pre-Rolled Blunts

Pre-Roll Packs

Infused Pre-Rolls

Pre-Packaged Flower

Custom Cannabis Packaging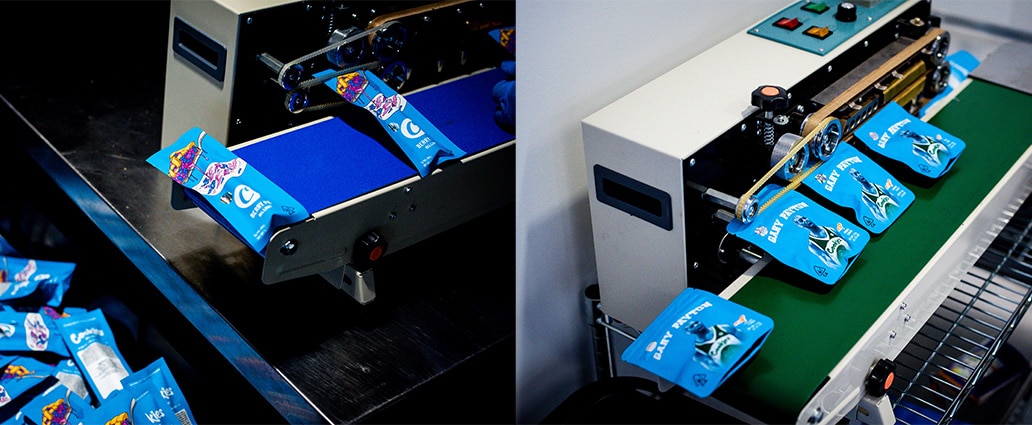 Mabel Co-Packs for the Best Cannabis Brands
Mabel has had the privilege of working with top cannabis brands in the industry! Check out some of our partners below.
Stiiizy
Cookies
Jokes Up
Papa's Herb
Gage Cannabis

Backpack Boyz

Dr. Greenthumb
Furthermore, these brands are all known for their high-quality products and commitment to providing customers with an enjoyable experience. Thanks to Mabel's partnership with these brands, adult-use and medical patients alike can have access to some of the best cannabis products on the market. Also, if you're a cannabis brand looking for pre-roll and pre-packaging services, CONTACT MABEL TODAY!
Finally, MJBizCon continues to provide attendees with infinite ways to be successful in the cannabis market. Don't miss out on this essential event for anyone involved in the business of cannabis. Register today via MJBizCon's site and join us in Las Vegas from November 16-18th, 2022 for the Expo, we look forward to seeing you at MjBiz 2022!
Want To Learn More About Mabel And How To Get Into The Cannabis Industry?
Visit Our Homepage To Get Started
Check Out Our Blog 
Follow Us On Instagram