How To Get Into The Cannabis Industry?
Are you interested in building your own cannabis brand? If so, you have definitely come to the right place! We will be providing some helpful tips on how to get into the cannabis industry. Needless to say, the weed industry has proven to be a lucrative one. Moreover, the sales growth is looking extremely promising over the next several years. So much so, the cannabis market is projected to reach 73 billion dollars by 2027.  If you're reading this article, you likely want to learn how to get a piece of this revenue right?
If so, you'll certainly want to read this article to the end before you begin your journey to success! Here we provide simple and practical information to start a successful cannabis business. Firstly, it is important to note that the marijuana landscape has been growing exponentially over the past decade. As a result, many companies are looking to the cannabis industry as an opportunity to build a successful business. Moreover, there are many innovative cannabis products you can create and sell. Lastly, the positive financial outlook proves you can make a lot of money in the cannabis industry.  However, the key question is how?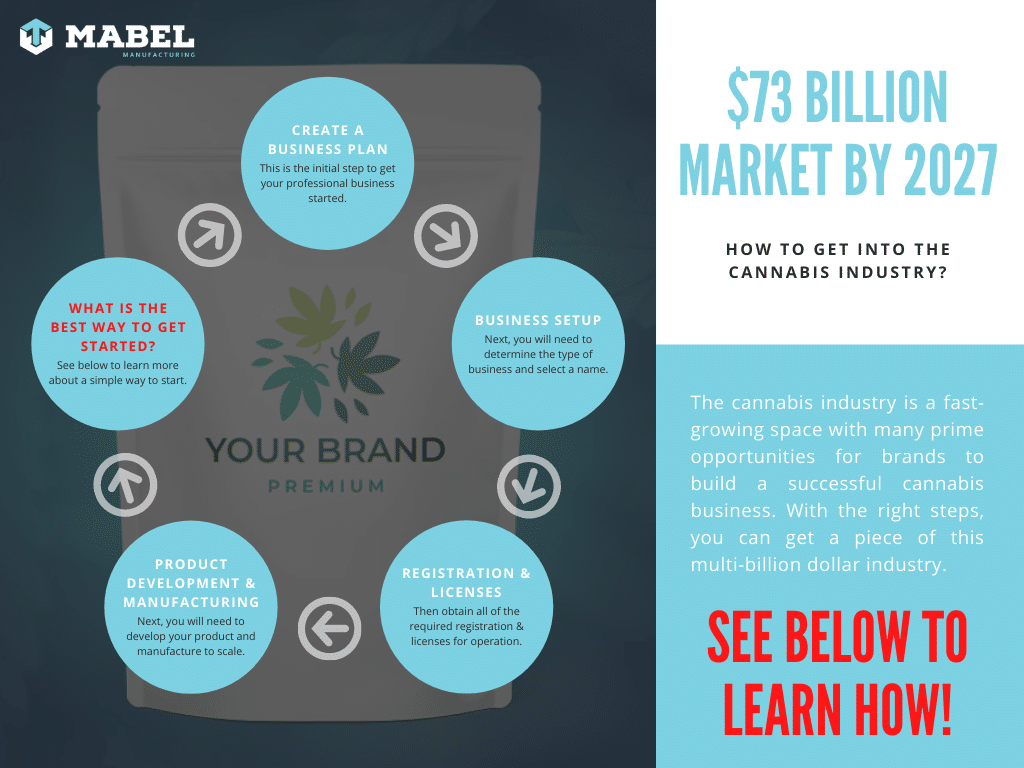 Create A Business Plan
Firstly, before investing too much time and revenue, one of the primary things you should do is set up a comprehensive business plan. As simple as this sounds, many people often neglect to put much time and effort into planning out their business. Even worse, some people skip this important step altogether. Overlooking this crucial step of your business is a sure-fire way to get on a straight path to failure. Below are some guidelines for building a successful cannabis brand.
Write A Business Summary – This should entail your company's mission statement and explain the primary focus of your business.
Business Goals & Target Objectives – This should include a clear and concise objective statement outlining your primary business goals.
Management & Company Structure – In this section, it is necessary to highlight key factors such as business type, management structure, as well as a breakdown of ownership percentages (where applicable).
Product & Service Information – This portion of your business should be a descriptive outline of your product and service. In addition, identifying your ideal client and how your product/service is better than your competitors is important.
Sales & Marketing Strategy – Next, you will want to outline a comprehensive strategy on how you plan to market and generate sales. Key factors include brand awareness for your product/service, client retention strategies, as well as business growth.
Financial Analysis & Forecast – If you are in the initial stages of your business, you likely will not have an exuberant amount of financial data. However, even as a startup, listing any initial debt, operational costs, and a realistic financial forecast is necessary should you wish to obtain investors.
Business Setup
Secondly, you will want to identify which type of entity you wish to form for your cannabis company. For example, do you plan to set up a Limited Liability Corporation (LLC), Sole Proprietorship, Corporation, etc.? This is essential as it will determine your liability, taxes, and other important aspects of your business. To learn more about this, we recommend checking out the IRS page on Business Structure.
Next, you will want to set up a business name, logo, and any other required business information depending on your location of operation. In addition, we recommend researching your local laws to ensure you are covering all of your preliminary bases before moving on to the next step.
Registration & Licenses
Thirdly, the next step on how to get into the cannabis industry is likely the most critical step of all. The reason being is that cannabis is still heavily regulated. As a result, making sure you comply with all county, state, and federal laws is crucial in order to avoid legality issues. Below are some important registration requirements and licenses you will need.
Register Your Business with Secretary of State
Register Your Fictitious Business Name (if applicable)
File for Required City and/or County License, Permit, or Authorization
Receive a Cannabis Seller's Permit
Obtain a Cannabis Tax Permit and Fee Administration (if applicable)
File for Required State License(s)
Ensure to Adhere to Any Employer Requirements (if applicable)
Consult with a Tax Professional to Ensure You Adhere to any Tax Laws and Requirments
IMPORTANT: If you reside outside of the U.S. please ensure to check your country's local guidelines.
Product Development & Manufacturing
Now that we have the business setup, we can get into the fun part! In this stage, you will begin to see your brand's products come to fruition which is very exciting. However, fun aside, this step will certainly not be easy as it can make or break your cannabis business. Below we outline the primary phases of the product development and manufacturing process in more detail.
Product Development
At this point, you likely have a product concept you wish to bring to the market. If so, what's the next step right? Well, the next feasible step would be to find a manufacturer that can develop your product at the price and scale you need that will allow you to generate a substantial return on your investment. If you do not have an official product just yet, some elite manufacturers can even facilitate and create one for you. Below are some of the basic processes needed as you go through the product development stage of your business.
Ideation
Market Research
Cost Analysis
Planning
Production
Launch
Product Manufacturing
Now that we have a product conceptualized and perhaps even some prototypes, we can now get into the actual manufacturing stage. Most importantly, you will need to utilize a manufacturer that can produce at the volume necessary to meet your client's demands. Moreover, it is also essential to keep manufacturing costs down so that you can increase profit margins. In addition, having a manufacturer that utilizes the latest cannabis industry technology is imperative for both scale and cost. Below are some essential cannabis manufacturing processes.
Product Assembly
Product Packaging
Cost Reduction
Scalability
Sourcing & Procurement
This stage of your business is extremely important as it involves supply chain and order management. If you are a cultivator, this requires having a fully vetted cannabis growing business plan in order to streamline this process. Below are some primary sourcing and procurement phases that will likely be a part of your marijuana cultivation business plan. The same applies if you are developing most other cannabis-related products.
Selecting & Vetting Suppliers
Supply Chain Management
Purchase Order Management
Auditing Delivery Orders
Receiving Invoice & Goods
Packaging & Compliance
Let's be honest, the cannabis industry is still heavily regulated in many states, as well as on the federal level. As a result, ensuring you comply with all state and federal laws is extremely important. Moreover, following all mandated compliances is key to avoiding any legality issues and potential shutdowns. According to the Department of Cannabis Control California government's website, below are some labeling requirements for California.
Inner Container Labeling
UID Numbers/Track-and-Trace
CDPH Labeling Requirements
IMPORTANT: If you reside in another state or outside of the U.S. please ensure to check your local guidelines.
Shipping & Logistics
Now that your awesome product has been manufactured, it's time to let the world experience your product first-hand. This is where shipping and logistics come in! As a result, being able to have an efficient shipping structure so that all inventory and orders are distributed in a streamlined process is key to increasing sales. Furthermore, without an organized shipping process, you will not be able to scale your brand effectively. Moreover, if cannabis dispensaries and partners cannot rely on you to deliver your product in a timely and consistent manner, this can be detrimental to your brand. Below are some important steps to this process.
Storing & Warehousing
Packaging & Consolidation
Shipping Scheduling
Transportation Management
Streamlined Distribution
What Is The Best Way To Get Started?
The good news is, there are simple solutions to get you started. Did you know that there are MJ business services that can help you with the heavy-lifting referenced above? However, the most important key to remember is that finding the right partner is essential. Most importantly, you will need to have a partner you can trust. One that fully understands the cannabis industry inside and out and can provide cannabis solutions so that you can be successful. What you will need is the right manufacturer!
With over a decade of experience, Mabel provides solutions to all manufacturing phases listed above. In addition, Mabel works with many of the leaders in the cannabis industry.
In conclusion, if you're looking for an easy way on how to get into the cannabis industry, we can help. Contact us today!

Want To Learn More About Mabel And How To Get Into The Cannabis Industry?
Visit Our Homepage To Get Started
Check Out Our Blog 
Follow Us On Instagram