Cannabis Industry Sales Forecast Looks Promising
Research indicates that legal sales of recreational cannabis in California are projected to reach an estimated 7.2 billion dollars by 2024. Moreover, the sales forecast will steadily increase with each consecutive year. In addition, as regulations loosen over the years, we should expect these figures to grow even more. With that said, getting into the cannabis industry now is ideal given it is still in the post-legalization infancy stage.
Additional Important Statistics Include:
The U.S. is Projected to Have 50 Million Cannabis Consumers by 2025
By 2026, Revenue in the U.S. is Forecasted to Reach 42 Billion
These Figures Will Only Continue to Grow Year-Over-Year
As the saying goes, "striking while the iron is still hot" certainly applies when it comes to the cannabis space. However, there are many reasons why people do not take advantage of this prime opportunity. The reason you ask? Well, that is because they do not know the intricacies of the cannabis business. As a result, those who wish to get into the cannabis space choose a different industry instead. But, the good news is that it no longer has to be this way. The reason why is that there are companies that can perform much of the heavy lifting on your behalf so that you can succeed. See below to learn more.
Are You Wondering How to Get into the Cannabis Industry?
Yes,  the data is very promising and the sales forecast is certainly great news for the cannabis industry. However, it is also important to note that there are still challenges new cannabis brands must face as they begin.
Common Challenges Include:
How To Begin
Competition Growing
State & Federal Compliance
Logistics, Shipping, & Scalability
Figuring out how to navigate these challenges as a new cannabis brand can be difficult. In addition, if you are unable to overcome these hurdles, they can be very costly to your business.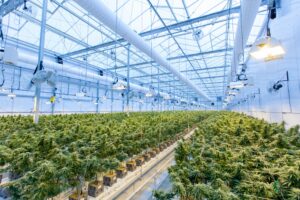 How Can Mabel Manufacturing Help Your Business?
Having a partner with experience in the cannabis space to help overcome these hurdles is important. Moreover, having a trusted partner to help facilitate from start to finish is extremely beneficial to your success. This is where Mabel Manufacturing comes in. See below with regards to how Mabel can help with each of the above common challenges.
How To Begin – Don't have your own product, or are you still in the initial phases of development? Not a problem! Mabel offers services that will not only help develop your products but also help you flush out your brand and/or products' concepts from beginning to end.
Competition Growing – Did you know that Mabel manufacturers products for some of the biggest brands in the cannabis industry? For example, we work with industry leaders such as Cookies brand, Ember Valley, Balanced, Juiced Brand, Clique, Gage Cannabis, among others! With that said, we can help your brand be in competitive alignment with the biggest brands in the cannabis space.
State & Federal Compliance – Mabel's entire company is based on trust. This is why we're here to help ensure that your cannabis brand's services are in full compliance with all state and federal regulations. In addition, Mabel has over a decade of experience in the cannabis industry, so we are fully aware of all necessary laws to ensure compliance.
Logistics, Shipping, & Scalability –  Mabel can coordinate the delivery of finished products to your licensed distributors all throughout California. Moreover, we can manage any logistics and increase your productivity which will allow you to scale with ease.
These are simply some of the ways Mabel can help you so that you can thrive in the cannabis industry. By leveraging a service such as Mabel, you can increase sales, expand your outreach, and become a leading pioneer in this growing industry!
If you wish to learn more about Mabel Manufacturing's services, please visit our website mabelcompany.com
Please Follow Us on Instagram @mabel.company